Tuljapur Tuljabhavani Devi Mandir | Tuljapur Devi Temple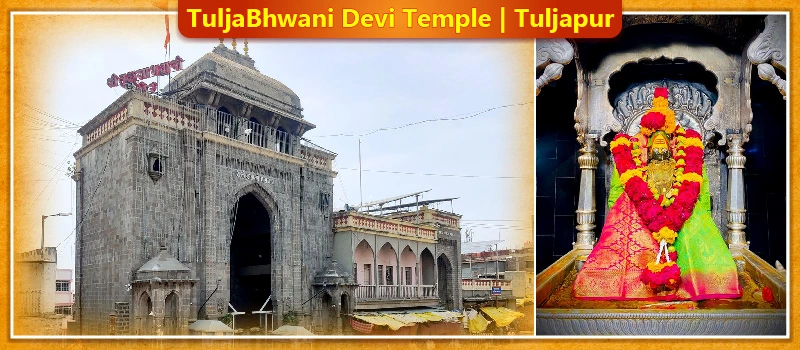 Tuljapur Tuljabhvani Devi Mandir Maharashtra
Tuljabhwani (तुळजाभवानी) is a form of Goddesses Sati or Parvati. Tuljabhwani Mata mandir is the second shakti peeth among 51 Shakti peeths of India. When Mahadev's wife Sati committed self-immolation, the sad Mahadev carried the body of his beloved wife and wandered around the earth. And because of that disturbance started to be created on  the earth. Lord Vishnu divide Sati's body into 51 pieces by using his Sudarshan Chakra to stop Mahadeva. Pieces of Sati's body fell on the earth, Shakti Peethas were created.
 The Temple of Tuljapur devi is famous as one of the three and a half Shaktipeeths in Maharashtra. This temple is located at Tuljapur in the Usmanabad district of Maharashtra, India. Tuljapur devi is situated on "Balaghat hill" which is 45 Km away from Solapur city. Earlier this place is known by the name Chinchpur.
Tuljabhwani devi is known by many names such as Sati, Turaj, Kukalan, Durga, Parvati, Bhagwati, Amba, and Jagdamba. Tuljapur temple of Tuljabhwani devi is considered Swayambhu  (Self Manifested). Swayambhu Murti of Tuljapur devi
 is 3 feet tall. Tujaljabhavani devi has eight hands and every hand has one weapon. The word Bhavani means the life-giver.TuljapurTuljabhwani temple was built by Mahamandaleshwar Mahadev of the Kadamb family in the 12th century. During today's period the management of Tuljapur mata mandir is done by the people of Palekar Bhope family. Tuljabhwani devi is considered the important goddess and Kuldaivat of many families.
In many stories of Shivaji Maharaj name of Tuljabhwani is mentioned many times. Shivaji Maharaj is one of the biggest worshiper of Tuljabhwani devi. It is said that Shivaji Maharaj visited many times in Tuljabhwani devi madir of Tuljapur. 
The Main gate name of Tuljabhwani mata mandir is Sardar Nimbalkar. And the other two entrances are named Shivaji Maharaj's father shahaji and his mother Jijabai. 
There is a mandir of Sage Markandeya rushi near the Tuljabhvani temple entrance and a sacred fire pit in front of the main Tuljabhvani temple. There are religious libraries named after Sant Dnyaneshwar and Tukaram.
 Before entering the Tuljabhvani mata madnir Gomukh Tirtha is on the right side of the steps and Kallol Tirtha is on the left side. Gomukh Tirtha means water coming from the mouth of a cow. This Gomukh water of Tuljapur temple is considered very sacred. The water of Gomukh Tirtha falls from a height of 6 feet and bathing in this water removes all sin. The water flow of Gomukh Tirtha comes from the Ganga Nadi. The Tuljabhvani temple area has Amrit Kund, Datta mandir, Siddhivinayak mandir, Adishakti, and Annapurna Devi mandir.
Tuljapur temple of Tuljabhvani Mata is worshiped daily with elaborate rituals. Daily worship of Tuljabhvani includes many rituals such as anointing Tuljabhvani, changing her clothes, Panchamrut Abhisheka, and offering food to her.
On the occasion of Kojagiri Poornima and Dashami, lakhs of devotees come from all over India to worship Tulja Bhavani. Sharadiya Navratri, Shakambhari Navratri, Ashwini Poornima, and Chaitra Poornima are the most important Yatras of Tulja Bhavani Temple in Tuljapur. Navratri is the most auspicious festival celebrated in Tuljabhvani  Temple. 
History of Tuljapur Temple of Tuljabhvani :
Skand Puran says that once upon a time, Sage Kardam and his wife Anubhuti lived in Tuljapur. After the death of Kardam Rishi, his wife performed penance on Bhavani Devi. One day when the demon Kukur began to trouble her, mother Tuljabhvani killed the demon. Since then Tulja Bhavani is known as the destroyer of evil demons. Due to the belief of some devotees of Tuljapur, Bhavani Mata settled on the Balaghat hill of Tuljapur and since then she came to be known as Tuljabhavani Devi.
Pooja and Programs Performed in Tuljapur temple of Tuljabhavani
: 
Ooti Pooja:

Devotees who come for darshan fill devi's ooti after having darshan of the goddess. You can fill Ooti of Tuljabhwani at any time in the temple.

Abhishek Pooja:

Abhishek Puja of Tuljabhavani Devi is performed between 6 am to 10 am and between 7 pm to 9 pm. If the devotees want to perform Abhishek Pooja, a religious fee is 50 Rs.

Sinhasan shrikhndi Pooja

:

Sinshana Pooja is performed with 70 liters of Srikhand, curd, milk, mango juice, or sugarcane juice as per the devotee's wish. Devotees need to make a booking first if they want to perform the Sinhasan Pooja in Tuljapur devi mandir. Simhansa Pooja is performed at 5 am and 2 pm. A religious fee of Rs.1001 is charged for the Sinhasan Pooja.

Gondhal Pooja

:

Gandhal Puja is performed outside the main Mandir. This Pooja is performed by newly married couples. A religious fee of Rs.20 is charged for this puja.

Kmkum Sada Program

:

A married woman pours the water of kunku around the Homakunda to keep her good fortune and to have plenty of wealth, grain, and happiness in her life.
Dandwat : In

Dandavat ritual devotees bathe at Kallol and Gomukh Tirtha and circumambulate the temple by prostrating at the Homakunda near the temple. Many devotees are seen doing this ritual to fulfill their vows.

Child's first hair removal program

:

After many devotional vows, devotees perform their baby's munj ritual at the Tuljabhavani temple to fulfill the vows. And a religious fee 151 is charged for this Munj ritual.

Marriage ceremony's :

Many people perform wedding ceremonies in the Tuljabhavani temple area to seek the blessings of the mata. There is no need to decide any muhurta and timing to get married in this area.

Puran Poli Naivedyam

:

Puranpoli, Dahibhata naivedya are offered to the Tuljapur Devi and meat offerings are made to Mahishasura at the foot of the Goddess. And in the morning during the Charan Tirtha, bhaji bhakri navedya are offered to the Tuljabhavani devi. 
Pooja timing of Tuljabhavani Temple: 
Kakad Arti: 4:30 Am

Abhishek Pooja: 6 Am to 10 Pm
Vastralankar Pooja and Dhoop Arti: 11 Am
Evening Abhishek Pooja: 7 to 9 pm 
Tuljapur Temple Development : 
Under the chairmanship of the collector of Osmanabad district, one committee has been formed for the temple's development. This committee is doing many kinds of work for the comfort of devotees and the development of the mandir. The committee has done the following work for the development of the Tuljapur devi mandir.
1) Solar power project in the temple premises, the administration has approved a target of 264.00 for this project.2) Provision of vehicle parking facilities. 3) Accommodation for devotees. 4) Shopping center on the temple premises. 5) Creation of a scenic environment around the temple. 6) Development of a garden around the devi mandir. 7) Convenience of steps from parking to the main devi mandir. 8) Construction of Darshan Mandap. 9) Renovation of Kallol Shrine. 10) Facilitation of libraries and collections.
Tuljapur Tuljabhavani Sansthans has provided various facilities for devotees like accommodation, food, Tuljapur darshan pass, online donation, Online Pooja pass, and Tuljapur live darshan.
Tuljapur Tuljabhavani Live Darshan Facility : 
Tuljabhavani Sansthan has started a live darshan facility for devotees, people can watch live darshan on the link provided on
the website of trust
श्री तुळजाभवानी मंदिर संस्थान
.
A 24-hour police post has been provided for the protection of the Tuljapur  temple and for proper darshan during rush hours.
Major Shakti Peetha's to visit in Maharashtra :
Vani saptashrungi devi mandir

: Vani Saptashrungi

devi mandir is located in Nashik city of Maharashtra, India. Saptashrungi Temple is half shakti Peetha among three and a half shakti Peeta's of Maharashtra and 51 Shakti Peetha's of India. Vani devi mandir is 473 Km away from Tuljapur devi mandir.

Mahalaxmi Temple Kolhapur

: Mahalaxmi Temple is located in Kolhapur, Maharashtra, India. This is one shakti peeth among three and a half shakti peeth's of Maharashtra. Mahalaxmi temple of Kolhapur is 282 Km away from the Tuljapur devi mandir. 
Renuka Devi Mahur Temple

: Renuka devi mahur temple is located in the district of Nanded, Maharashtra, India. It is one between three and a half shakti peethas of Maharashtra. Renuka mata mandir is 351 Km away from Tuljapur Tuljabhavani mata mandir.  
13 Feb '23 Monday