Trimbakeshwar Shiva Temple is an ancient and historic Hindu temple in Trimbak village (Located in the Nasik district of Maharashtra) dedicated to Lord Trimbakeshwar (Supreme deity Lord Shiva). It is 28 Km far from the City of Nashik. Trimbakeshwar Temple is an ancient temple of Lord Shiva and identified as one of the divine 12 Jyotirlinga. The holy river Godavari originates near Trimbak. Kushavarta Kund (sacred Pond) also lies in the temple premises built by the "Shrimant Sardar Raosaheb Parnekar," known as Fadnavis of Indore State. Shri. Nanasaheb (Peshwa Balaji Baji Rao) constructed the current Trimbakeshwar Temple.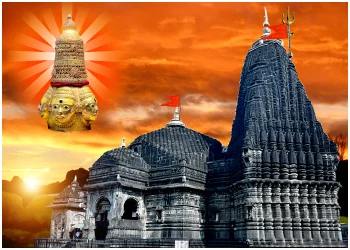 History of Trimbakeshwar Shiva Temple:
Temple is located at the foothill of the mountain "Bramhagiri," where the Holy Ganga River originates (Maharashtra's longest river). The History of the Trimbakeshwar Temple is that it was built-in 1755-1786 AD by Shri. Nanasaheb Peshwa. The word "Trimbak" indicates Trinities (trideva): Lord Brahma, Lord Vishnu, and Lord Mahesh. The Temple is made with black stone, and it is bordered with a 20 to 25ft stone wall that gives a prosperous look. In the Trimbakeshwar Shiva Temple premises, Kushavarta Tirtha (holy Pond) is 400m away located. It is 21ft deep pond that was built in the year 1750. It is believed that Kushavarta is the place where the holy Ganga River remerges after disappearing at Bramhahgiri hills and thus the superior holiness of the Kushavarta Tirtha.
It is said that many events are witnessed in the premises of this sacred place of Trimbakeshwar Shiva temple-like as Lord Rama came at Trimbakeshwar for doing Shraddha of their father Dashrath, Sage Gautama took the dip bath at Kushavarta pond (holy Pond). The Mukhya Dwar (main gate) of the Trimbakeshwar Temple leads us to the visit queue, splitting into 6-7 lines for devotees' convenience. At the beginning of the temple, a prominent Nandi (made of white marble) faces the Shiva linga. Nandi is said to be the Vahana (Vehicle) of Lord Shiva (Shankara). It is believed that if one tells his wish/ desire in the ear of Nandi, then he will convey that wish to Lord Shiva. After the Nandi temple, there is a big (spacious to meditate and worship) hall called "Sabha Mandap," and then "Gabhara" main temple where linga is situated.
Trimbakeshwar Temple Live Darshan:
Trimbakeshwar Devasthan Trust has started a new facility of "TRIMBAKESHWAR SHIVA TEMPLE LIVE DARSHAN". All the Pandit Ji (you are watching in the video) who perform Puja's in the temple are the authorized tamrpatradhari purohits of Trimbakeshwar. This vital step of live streaming is taken for all the devotees and admirers who are not able to come to the temple, to seek Lord Shiva's blessing this year.
Click on live link to see the Live Darshan: Trimbakeshwar Temple Live Darshan
Authorized Panditji in Trimbakeshwar Temple:
There are authorized purohits who have the birthright from ages to perform all pujas like Narayan Nagbali puja, Kalsarpa puja, Maha Mrityunjaya Mantra Jaap, Kumbh Vivah, Tripindi Shraddha, Rudrabhishek Pooja etc. They have the ancient copper inscription called "Tamraptra," which holds the authenticity for performing various Pujas. Please contact this Tamraptradhari panditji, which means the (holder of Tamraptra) panditji.
Let us have an spiritual experience of Pujas done in Trimbakeshwar Shiva Temple and trimbakeshwar temple's area. Yajmana who wish to have a pure connection to Lord Shiva can connect with the Purohits.

Trimbakeshwar Temple Official Website of Purohit Sangh !
Welcome to the official website of Purohit sangh (www.purohitsangh.org). It is an official committee of approximately 300 authenticated Guruji. They are registered and certified with registration number Y203-215. Purohit Sangh Guruji are members of the Trimbakeshwar Temple trust. They all are Tamrapatradhari Purohits. Tamrapatra Dhari means they have a legal birthright to perform various puja in the Trimbakeshwar Shiva Temple. They are part of Sanstha called "Purohit Sangh." With the help of the official website of Purohit Sangh, you can book Puja/ online Pandit. Just in one click, you will get all the information about Panditji, who performs puja in the Trimbakeshwar Temple.
Trimbakeshwar Shiva Temple Online Pooja Booking:
All kind of pooja like Narayan Nagbali, Trpindi Shradha, Kalsarpa Pooja, Maha Mrityunjaya Mantra Jaap and Rudra Abhishek Pooja are performed by Authorised Purohit Sangh Guruji in Trimbakeshwar.
For Online Pooja Booking please click on the below Guruji Profiles. These Guriji's hold the Tamprapatra (Copper inscription), Who has the rights to perform these puja in Trimbakeshwar.
Below are the Profiles of our Panditji in Trimbakeshwar:
Architecture and Significance of Trimbakeshwar temple
Architecture
Inaugurated on 16th February 1756, shiva temple, the day of Mahashivratri, Trimbakeshwar temple, was open for everyone who wished to offer prayers. The then-developed temple was renovated for 31 years, and it has applaudable ambiance and positivity.
The work conducted by the designated authorities is remarkable, and the detailing of the temples has a presence of hard work put in by the craftsmen from all over the country. Rare stones and marbles were provided and sourced to create an impressive building that is now open for darshan.
It is available from all the corners of the significant directions through four gates. The main gate has the date of opening engraved in Sanskrit.
Significance of Triyambakeshwar
The believers and followers of Lord Shiva are drawn towards this beautiful place, offering them a reason to rejuvenate themselves. It is considered a one-stop solution to many doshas and removes obstacles from your not-so-fortunate fate.
In simple terms, it is the place where God accepts your prayers and religious rituals to help you get rid of harmful and unlucky times of your life. Many Puja's are conducted on auspicious days, exclusively held at triyambakeshwar temple.
There is no other place in the world that allows you to perform such a religious ceremony the way it is conducted here. Narayan nagbali and Tripindi Vidhi are two among the vidhi's or rituals undertaken only here.
People fly down from different cities and nations to perform these rituals within the premises of Trimbakeshwar temple under the priest's guidance.
Trimbakeshwar is a place of worship for followers of Shri Saint Dnyaneshwar, who has taken Samadhi at a very young age of 24 years. A yearly celebration is conducted on the occasion of his Punyatithi. Millions of devotees participate in the yatra and indulge in the positivity of the saint.
It is believed Shri Saint Dnyaneshwar had written commentary on Bhagwati Gita for an understanding of a layman. His contribution is priceless and is celebrated among the locals as a treasure.
Divine Jyotirlinga of Trimbakeshwar Temple: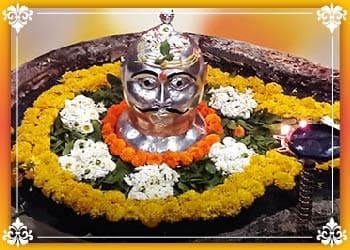 Jyotirlinga of trimbakeshwar is the sacred holy place of Lord Shiva, Lord Vishnu & Lord Bramha. The word "JYOTIRLINGA" represents the "Pillar of light" or "PrakashStambha." This divine Jyotirlinga is the only Jyotirlinga in India that represents not only Lord Shiva (Triymbakraj) but also Lord Vishnu and Lord Brahma.
The structure of the actual Trimbakeshwar Shiva Linga is quite different than the other 11 jyotirlingas. There are a small thumb size three lingas (holes) instead of the "Linga" from which the holy Ganga river originates, and three lingas depict the Trinity or Trimurti (i.e., Lord Brahma, Vishnu, and Mahesha) known for the Creator, Preserver, and Destructor of the universe. All the places where Shiva appeared are known as a Pillar of Light (Jyotirlingas). It was believed that there was 64 jyotirlinga, out of which 12 jyotirlingas are considered to be divine. 12 Jyotirlingas are Somnath (Gujrat), Malikarjuna (Shrisailam in Andhra Pradesh), Mahakaleshwar (Ujjain in Madhya Pradesh), Omkareshwar (Madhya Pradesh), Kedarnath (Himalayas), Bhimashankar (Maharashtra), Vaidyanath (Jharkhand),Kashi Vishwanath(Uttar Pradesh), Nageshwar (Dwarka), Rameshwaram (Rameshwaram, Tamil Nadu), Grishneshwar (Aurangabad, Maharashtra).
The Trimbakeshwar linga is covered by a jeweled crown (crown consists of diamonds, precious stones) placed over a tridev gold mask. That jeweled crown is said to be a crown from the age of Pandavas.
Mythological Story of Trimbakeshwar
According to the mythological story, Brahmadeva performed penance here on a mountain to please Lord Shiva, which later became known as "Brahmagiri Parvat".
Once upon a time, there was an ashram of Gautam Rishi on this mountain.In order to get rid of the sin of cow slaughter, he did hard penance and pleased Mahadev. At the request of sage Gautam, Lord Shiva became a trinity and enthroned here in the form of Jyotirlinga.From then on, this place came to be known as Trimbakeshwar.
As we Know the word Jyotirlinga means "Prakashstambh". The actual structure of the Trimbakeshwar Shivalinga is different from the other 11 Jyotirlingas, as there are three thumb-shaped cups in the Shivpindi at Trimbakeshwar in which the Trimurti i.e., "Brahma-Vishnu-Mahesh" is present. The flow of Godavari starts continuously from this Shivling. This is the only Shivling in the world of this nature.
Another feature of this temple is that "Trikal Pooja" is performed on the Jyotirlinga which according to local information has been going on for more than 350 years, which is the only temple out of the 12 Jyotirlingas.
"सह्याद्रिशीर्षे विमले वसन्तं गोदावरितीरपवित्रदेशे |
यद्धर्शनात्पातकमाशु नाशं प्रयाति तं त्र्यम्बकमीशमीडे ||"
— श्री आदिगुरू शंकराचार्य कृत द्वादश ज्योतिर्लिंग स्तोत्र
Meaning of Shloka — In the land of holy Godavari, I meditate with exclusive devotion to Shri Trimbakeshwar, the Trimurti, who always resides on the top of Sahyadri. All the sins of the devotees who come here for darshan with pure bhava are destroyed.
Festivals Celebrated in Trimbakeshwar Shiva Temple: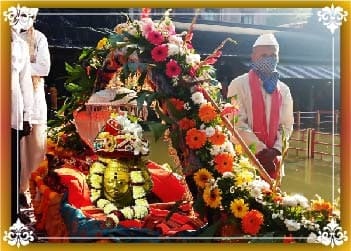 Many festivals are celebrated at the Trimbakeshwar Shiva Temple but two most important festivals such as Sinhasta Kumbh Mela and Mahashivratri.
MahaShivratri
On the day of Mahashivratri, a large fair is held at the Trimbakeshwar. Thousands of people came here for the Mahashivratri, i.e., the Great night of Shiva, to seek blessings of the supreme deity God shiva. Mahashivratri is a yearly celebration that is well celebrated here. It was the auspicious time when Lord Shiva married Goddess Parvati. It is a joyous time for Hindus when they fast and offer prayers to the married couple whom they adore as their eternal parents.
Sinhasth Kumbh Mela
Every 12 years, Sinhastha fair (Kumbh Mela) after Allahabad is held here. It is one of the four fairs which are traditionally organized as the Kumbh Mela here. In this fair, people take a holy bath at the Godavari River and Ram kund (Nasik) to cleanse all the bad karma. Kumbh mela, which was last held in 2015, and it is the time when Hindu pilgrims take a bath in the Godavari river to complete their holy journey. It is a beautiful gathering of people who consider Lord Shiva as their eternal mentor and are here to enjoy the festivity of this time.The Next Kumbh Mela is at Nashik in the year 2027.
Palkhi Sohla
Along with these two main festivals, every Monday, Palkhi is organized at the Trimbakeshwar. Monday (Somvar) is considered the day of Lord Shiva. The Crown of Lord Shiva and Palkhi can be seen every Monday from 4pm to 5pm in Trimbak Village. In which the golden crown of Shri Trimbakeshwar is kept for the darshan of devotees
This golden crown is brought for abhishek at Kushavart Tirtha with the sound of drums. Then there is Aarti after abhishek.
After the Aarti, this golden crown is again placed in the Trimbakeshwar temple In this way, a wonderful "palkhi sohala" is concluded
Through the "Shri Trimbakeshwar Sansthan (Trust)", a 'Panch Mukhi' crown has been established on this ancient Jyotirlinga. The story has it that the crown was established by the five Pandavas themselves. This "Pandavankalin crown" is rare and studded with many diamonds and gems.
Rath Poornima
Rath Poornima is a month-long celebration when Panchmukhi idols are paraded with the complete feel of the festival. The people who participate in the ritual are chanting prayers and spread positivity as the parade proceeds during their journey. It is conducted between the month of January and February.
Tripuri Purnima
Tripuri Purnima falls between November and December. It is a one-day celebration that is a symbol of the victory of Lord Shiva over the evil powers. The brightest Purnima of the years is also known as Tripuri Poornima. It is celebrated by enjoying Kheer, which is charged in the moonlight during the nighttime.
History of Purohits in Nashik :
Nashik is very much known for the Trimbakeshwar Shiva Temple.In Indian culture, Brahmins are placed at the top to perform any religious ceremony. In Trimbakeshwar, this place is reserved for "Purohits." It is known that "TAMRAPATRADHARI PUROHITS," who only has the right to perform Pooja at Shiva Temple, is the most respected Brahmin Sangh in Nashik. Various poojas such as Kaal Sarp yoga, Kumbh vivah, Rudrabhishek are only and only done with these Purohits. Purohits offer you the best Pooja samagri and Vidhi. They are the local Pandit Sangh which can help you throughout the process. They can also provide you the most spiritual experience and make the Pooja easy.
Pooja Performed in Trimbakeshwar Temple:
Trimbakeshwar Temple in Nasik has spiritual experience; this is the most religious place to perform various religious Vidhi's, Poojas, and Rituals. Different kinds of poojas (such as Narayan Nagbali, Kalsarpa Pooja, Tripindi Shraddha, Mahamrityunjay Mantra Jaap, Kumbh Vivah are done in Trimbakeshwar where as Rudrabhishek in done in the temple) are done near the Temple, and it is believed that Performing Pooja and rituals near the Trimbakeshwar shiva Temple are more fruitful than performing poojas and rituals at other places. All the Pujas are done only under the guidance of authentic purohits and Brahmins who belong from the legacy in their houses and hold a "Tamraptra" (ancient copper in scripture) and birthright to perform a Pooja.
Lord Shiva and his Devotees:
Lord Shiva, Divine and Spiritual power where Devotees have internal faith in him. The name doesn't need any introduction. Their devotees will tell the world about its glory and the will to change evil into good. As the name depicts, Bholenath Lord Shiva is innocent, and devotees worship them to eliminate their sins and imbibe the positive energy into themselves.
The world worships Lord Shiva in the form of Shiva Linga. The temples are in every corner of the world being taken care of by the Shiva Bhakhts. The Shiva Bhakhts worship Lord Shiva in every way possible. Devotees know Lord Shiva as Rudra, just as they know Bholenath, Neelkanth, Mahadev, Damruwale, Natraj, and many other names. Lord Shiva has many avatars, and so it's various forms of worshipping. Rudrabhishek is one of them. Rudra is the sun and moon's eyes, the wind's breath and the Vedas' voice, and the universe's heart; the world arises from his foundation. Rudra appears in the Vedas and is thought to refer to Lord Shiva's terrifying, violent, and destructive nature. Lord Shiva's ruthless side is exemplified in the Rudra Tandav dance, as mentioned in sacred scriptures. As rightly said, Destruction is the Purest form of Creation. There are many hypotheses as to why Shiva is known as Rudra. Rudra appears in the Vedas and is thought to refer to Lord Shiva's terrifying, violent, and destructive nature. Lord Shiva's ruthless side is exemplified in the Rudra Tandav dance. There are many hypotheses as to why Shiva is known as Rudra.
Several holy places near trimbkeshwar temple
There is a long list of places that can make your trip to trimbkeshwar full of adventure and as enjoyable as mythological tales.
Brahmagiri hill:
One look at the Brahmagiri Hill is equivalent to abiding goodbye to all the sins you have ever performed in your life. Well, that's what was believed and is still believed by the locals. While visiting Triyambakeshwar temple, you have to just give the hills a look, and all your evil deeds will evade in no time. The most beautiful thing is the fort(metghar killa); one can quickly enter the defense through the main gate as there is no other route available. Steps are created by the authorities to help you reach the fort, and it has wild vegetation in the surroundings.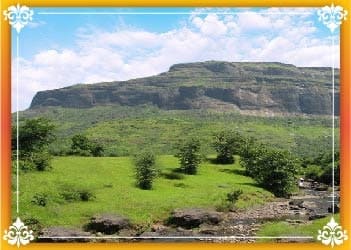 Brahmagiri Mountain is where the holy Ganga River originated and is usually known as the Godavari River. Brahmagiri hills hold the prestigious position. River Ganga goes through the ranges of Brahma Giri. There are 700 steps to climb Brahma Giri Mountain, which needs a minimum of 4 to 5 hours. The Sacred Ganga River flows in three directions. i.e., towards the East (known as the Godavari), towards the South (known as Varna), and West known as west-flowing Ganga, she meets the Godavari near Chakra Tirtha. There is Sangam of River Ganga and River Ahilya in front of Trimbakeshwar Temple, which is the sacred place, and thus people having no offspring came here to perform the ritual at Sangam. The height of Brahmagiri Mountain is 4248 ft from sea level.
Starting Point of Godavari River
Gangadwar is the main gate which is halfway from Brahma Giri parvata. On which Temple of Ganga River exists. It is said that Ganga appeared at Gangadwar for the first time, and afterward, it vanished from Brahma Giri Mountain. The Godavari comes to Gangadwar from the Brahmachari.
Kushavarta kund:
A place of worship where people who are fortunate enough land at the right time. There are many tales about Kushavarta kund, and one such is about the opportunity to reach this place is available to a person who is fortunate enough to make this as a good karma count for his/her life. The tale has its origin from a short story where Gautam had reached the kund to get rid of the sin of killing a cow. Many Religious Temples present around Kushavart Kund, Such as Chintamani Ganesh Ji, kusheshwar Mahaev, Sheshshayi Vishnu Bhagwan
Anjaneri hills / Lord Hanuman Birth Place
Nashik lets you witness mythology closely by a variety of temples and forts. One such place is the place of origin of Lord Hanuman. Lord Hanuman is one of the most prominent Hindu Holy Book Ramayana and a fully dedicated Bhakta of Lord Rama. Anjaneri is a well-known place that visitors of trimbkeshwar are blessed to witness while routing their way from Nasik to trimbkeshwar. Lord Hanuman is also known as Anjani Putra as his mother's name was Anjani, and it is believed that his place of birth is Anjaneri.
An utterly cheerful ambience offers devotees a chance to connect with the almighty. The road that leads to the temple is fascinating and is highly maintained. Anjaneri Fort is a delight for the eyes, and visitors are thrilled with the mountain in which the fort is located. The surroundings are charming and help you witness the best version of nature, and it lets you explore nature in the best form. The journey begins with an adventurous trek that surprises you and is almost an hour long. A memory for life is created if you explore this blissful place with your loved ones and family. It is more than a pilgrim site.
Along With Bramhgiri hill and Anjeneri Hill, there are Many Mountains in Nashik for Trekking, Such As Harihar Fort.
Shree Nivruttinath Maharaj Samadhi Temple
The Nivruttinath Maharaj Shrine is a samadhi temple dedicated to Saint Nivruttinath Maharaj, located in trimbkeshwar, Nashik and revered by locals and the Warkari community. The live Samadhi taken by the saint is a unique feature of this shrine. It was a common rite at the time, yet it was seen as profoundly spiritual. Saints from around the country pray to their gods, who are worshipped with offerings and ceremonies.
On the 12th day of Jyeshtha Vadya, a Samadhi ceremony is held. It draws devotees who want to participate in the entire ritual and witness the annual celebration. The festival is one of the most popular in Nashik. Locals admire the tremendous energy and excitement of those who come to enjoy the week-long festivities—placed amid natural splendour.
Shree Swami Samarth Gurupeeth triyambkeshwar– Dindori Pranit
The Shree Swami Samarth Shaktipeeth should not be missed in Nashik. The residents and trust people encourage visitors and tourists to experience triyambkeshwar's Lord Shiva's, and Swami Samarth's spiritual offerings.
Shree Swami Samarth Shaktipeeth is a beautiful spot to see the sub-temples of another god and appreciate the natural beauty. Ayurvedic experts are also on hand to share their knowledge and offer free counsel to the devotees. The atmosphere is positive and tranquil, and you will enjoy a one-of-a-kind experience while touring the entire temple. The guests are enamoured with all of the amenities provided, from lodging to Prasad. As you hear new facts and anecdotes about Swamiji and are given by his followers' admiration, the offerings are beyond words.
Saptashrungi Devi Temple
Saptashrungi Mata Mandir is one among 52 Shakti Peethas of India which is 106 Km from Trimbakeshwar Temple. This temple is located in Vani village (located in Nashik, Maharashtra). In this temple Idol of Saptashrungi devi is swayambhu (self-manifested). Navrati and Chaitra Utsav are the biggest festivals of Saptashrungi Temple, thousands of devotees come from different cities to take darshan on these auspicious festivals.
Kedareshwar Temple
The well-known Avtar of Lord Shiva, Kedareshwar Mahadev, is worshipped in the Kedareshwar temple. A place to offer prayers and seek blessings of infinite energy. It is the place that has deep-rooted significance in the life of devotees, as a tale of the savior of Gautama by Lord Shiva at this particular famous is utterly shared by locals. Sage Gautama was about to kill a holy cow while leading his way when Lord Shiva came up to save him from committing such sin. An attractive place and admirable Interior attract tourists from all over the nation to come and witness the creator's hard work.
Trimbakeshwar Temple Darshan Pass:
You will get the VIP Darshan Pass at main gate of the temple. VIP Darshan pass will cost you Rs. 200. Free Darshan is also available which takes around one to two hours depending on the condition.
Trimbakeshwar Temple Timings:
The opening and closing timings of the Trimbakeshwar Shiva Temple is 7 AM to 8 PM.
Devotees need to come to temple in the darshan timings only.
How to Reach Trimbakeshwar Shiva Temple: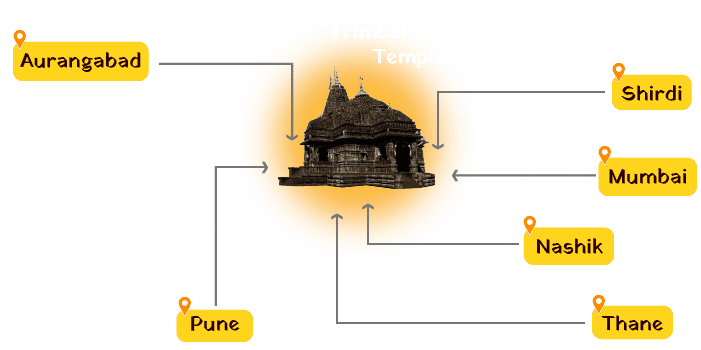 There are three ways to reach the Trimbakeshwar such as by air, by road, by rail. Trimbakeshwar is located 28 km away from Nasik (which is one of Maharashtra's popular cities).Nasik is connected to other cities quite well through roadways. Other nearest popular cities are Shirdi which is just 116 km far, then thane (163.2 km), Pune (240.5 km), Aurangabad (224 km) Mumbai (185.7 km).
Via Bus
The distance from Nashik to Trimbakeshwar from Central Bus Stand is approximately 27 km .It takes 45 minutes to reach this Place.There are several MSRTC buses about 30 minutes away from the new CBS (Mela bus stand).From morning till late at night. They cost less than other sources. Some long-distance buses from Mumbai (Thane, Boisar, Virar) and Gujarat (Surat, Vapi, Valsad) also pass through Trimbakeshwar.So there are enough buses available.Taxis and cabs are also available from the new CBS.
Via Railway
Trimbakeshwar is 40 km away from the Nasik road railway station. Many trains connected to this route.Also, buses from Nashik Road to Trimbakeshwar are frequently available.Cabs and auto rickshaws are available outside the station Major cities include Pune, Mumbai, thane, Delhi, Chennai, Hyderabad, etc., for train routes. The nearest airport to the Trimbakeshwar is Nasik airport, whereas the nearest international airport is Chhatrapati Shivaji Airport, Mumbai (166 km).The frequent availability of public and private transportations make visitors journey relatively easy.