Trimbakeshwar Shiva Temple is an ancient and historic Hindu temple in Trimbak village (Located in the Nasik district of Maharashtra) dedicated to Lord Trimbakeshwar (Supreme deity Lord Shiva). It is 28 Km far from the City of Nasik. Trimbakeshwar Temple is an ancient temple of Lord Shiva and identified as one of the divine 12 Jyotirlinga. The holy river Godavari originates near Trimbak. Kushavarta Kund (sacred Pond) also lies in the temple premises built by the "Shrimant Sardar Raosaheb Parnekar," known as Fadnavis of Indore State. Shri. Nanasaheb (Peshwa Balaji Baji Rao) constructed the current Trimbakeshwar Temple.
History of Trimbakeshwar Temple:
Temple is located at the foothill of the mountain "Bramhagiri," where the Holy River Ganga originates (Maharashtra's longest river). The History of the Trimbakeshwar Temple is that it was built-in 1755-1786 AD by Shri. Nanasaheb Peshwa. The word "Trimbak" indicates Trinities (trideva): Lord Brahma, Lord Vishnu, and Lord Mahesh. The Temple is made with black stone, and it is bordered with a 20 to 25ft stone wall that gives a prosperous look. In the Trimbakeshwar Shiva Temple premises, Kushavarta Tirtha (holy Pond) is 400m away located. It is 21ft deep pond that was built in the year 1750. It is believed that Kushavarta is the place where the holy Ganga River remerges after disappearing at Bramhahgiri hills and thus the superior holiness of the Kushavarta Tirtha.
It is said that many events are witnessed in the premises of this sacred place of Trimbakeshwar Shiva temple-like as Lord Rama came at Trimbakeshwar for doing Shraddha of their father Dashrath, Sage Gautama took the dip bath at Kushavarta pond (holy Pond). The Mukhya Dwar (main gate) of the Trimbakeshwar Temple leads us to the visit queue, splitting into 6-7 lines for devotees' convenience. At the beginning of the temple, a prominent Nandi (made of white marble) faces the Shiva linga. Nandi is said to be the Vahana (Vehicle) of Lord Shiva (Shankara). It is believed that if one tells his wish/ desire in the ear of Nandi, then he will convey that wish to Lord Shiva. After the Nandi temple, there is a big (spacious to meditate and worship) hall called "Sabha Mandap," and then "Gabhara" main temple where linga is situated.
Trimbakehswar Temple Live Darshan:
Trimbakeshwar Devasthan Trust has started a new facility of "TRIMBAKESHWAR TEMPLE LIVE DARSHAN". All the Pandit Ji (you are watching in the video) who perform Puja's in the temple are the authorized tamrpatradhari purohits of Trimbakeshwar. This vital step of live streaming is taken for all the devotees and admirers who are not able to come to Trimbakeshwar to seek Lord Shiva's blessing this year for "The great night of shiva –MAHASHIVRATRI" due to the covid-19 pandemic.
Click on live link to see the Live Darshan: Trimbakehswar Temple Live Darshan
Authorized Panditji in Trimbakeshwar:
There are authorized purohits who have the birthright from ages to perform all pujas like Narayan Nagbali puja, Kalsarpa puja, Maha Mrityunjaya Mantra Jaap, Kumbh Vivah, Tripindi Shraddha, Rudra Abhisheka Pooja etc. They have the ancient copper inscription called "Tamraptra," which holds the authenticity for performing various Pujas. Please contact this Tamraptradhari panditji, which means the (holder of Tamraptra) panditji.
Let us have an spiritual experience of Pujas done in Trimbakeshwar Temple. Yajmana who wish to have a pure connection to Lord Shiva can connect with the Purohits.

Trimbakeshwar Temple Official Website of Purohit Sangh
Welcome to the Trimbakeshwar Temple official website of Purohit Sangh. It is an official committee of approximately 300 authenticated Guruji. They are registered and certified with registration number Y203-215. Purohit Sangh Guruji are members of the Trimbakeshwar Temple trust. They all are Tamrapatradhari Purohits. Tamrapatra Dhari means they have a legal birthright to perform various puja in the Trimbakeshwar Temple. They are part of Sanstha called "Purohit Sangh." With the help of the Trimbakeshwar Temple official website of Purohit Sangh, you can book Puja/Pandit Online. Just in one click, you will get all the information about Panditji, who performs puja in the Trimbakeshwar Temple.
Trimbakeshwar Temple Online Pooja Booking:
All kind of pooja like Narayan Nagabali, Trpindi Shradha, Kaal Sarp Yog, Maha Mrityunjaya Mantra Jaap and Rudra Abhisheka Pooja are performed by Authorised Purohit Sangh Guruji in Trimbakeshwar.
For Online Pooja Booking please click on the below Guruji Profiles. These Guriji's hold the Tamprapatra (Copper inscription), Who has the rights to perform these puja in Trimbakeshwar.
Below are the Profiles of our Panditji in Trimbakeshwar:
Divine Jyotirlinga of Trimbakeshwar: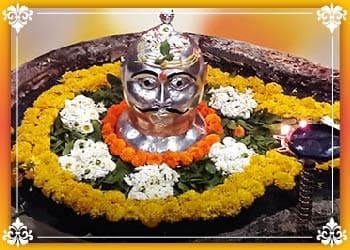 Jyotirlinga is the sacred holy place of Lord Trimbakeshwar. The word "JYOTIRLINGA" represents the "Pillar of light" or "PrakashStambha." The divine Jyotirlinga of Trimbakeshwar is the only Jyotirlinga in India that means not only Lord Shiva (Trimbakeshwara) but also Lord Vishnu and Lord Brahma.
The structure of the actual Trimbakeshwar Shiva Linga is quite different than the other 11 jyotirlingas. There are a small thumb size three lingas (holes) instead of the "Linga" from which the holy Ganga river originates, and three lingas depict the Trinity or Trimurti (i.e., Lord Brahma, Vishnu, and Mahesha) known for the Creator, Preserver, and Destructor of the universe. All the places where Shiva appeared are known as a Pillar of Light (Jyotirlingas). It was believed that there was 64 jyotirlinga, out of which 12 jyotirlingas are considered to be Pious. 12 jyotirlinga are Somnath (Gujrat), Malikarjuna (Shrisailam in Andhra Pradesh), Mahakaleshwar (Ujjain in Madhya Pradesh), Omkareshwar (Madhya Pradesh), Kedarnath (Himalayas), Bhimashankar (Maharashtra), Vaidyanath (Jharkhand), Nageshwar (Dwarka), Rameshwaram (Rameshwaram, Tamil Nadu), Grishneshwar (Aurangabad, Maharashtra).
All the above places are the lingam which represents the beginningless and endless stambha pillar, which symbolizes Lord Shiva's nature. The Trimbakeshwar lingam has started to erode; erosion is a sign of manhood's eroding nature. The Trimbakeshwar linga is covered by a jeweled crown (crown consists of diamonds, precious stones) placed over a tridev gold mask. That jeweled crown is said to be a crown from the age of Pandavas.
History of Purohits in Nashik :
Nashik is very much known for the Trimbakeshwar Temple.In Indian culture, Brahmins are placed at the top to perform any religious ceremony. In Trimbakeshwar, this place is reserved for "Purohits." It is known that "TAMRAPATRADHARI PUROHITS," who only has the right to perform Pooja at Temple, is the most respected Brahmin Sangh in Nashik. Various poojas such as Kaal Sarp yoga, Kumbh vivah, Rudra Abhishek are only and only done with these Purohits. Purohits offer you the best Pooja samagri and Vidhi. They are the local Pandit Sangh which can help you throughout the process. They can also provide you the most spiritual experience and make the Pooja easy.
Pooja Performed in Trimbakeshwar Temple:
Trimbakeshwar Temple in Nasik has spiritual experience; this is the most religious place to perform various religious Vidhi's, Poojas, and Rituals. Different kinds of poojas (such as Narayan Nagbali, Kalsarpa Pooja, Tripindi Shraddha, Mahamrityunjay Mantra Jaap, Kumbh Vivah, and Rudra Abhisheka) are done near the Temple, and it is believed that Performing Pooja and rituals near the Trimbakeshwar Temple are more fruitful than performing poojas and rituals at other places. All the Pujas are done only under the guidance of authentic purohits and Brahmins who belong from the legacy in their houses and hold a "Tamraptra" (ancient copper in scripture) and birthright to perform a Pooja.
Festivals Celebrated in Trimbakeshwar Temple: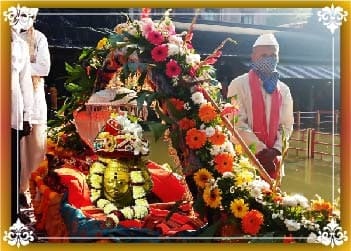 Many festivals are celebrated at the Trimbakeshwar Temple but two most important festivals such as Sinhasta Kumbh Mela and Mahashivratri. On the day of Mahashivratri, a large fair is held at the Trimbakeshwar. Thousands of people came here for the Mahashivratri, i.e., the Great night of Shiva, to seek blessings of the supreme deity God shiva.
Every 12 years, Sinhastha fair (Kumbh Mela) after Allahabad is held here. It is one of the four fairs which are traditionally organized as the Kumbh Mela here. In this fair, people take a holy bath at the Godavari River and Ram kund (Nasik) to cleanse all the bad karma.
Along with these two main festivals, every Monday, Palkhi is organized at the Trimbakeshwar. Monday (Somvar) is considered the day of Lord Shiva. The Crown of Lord Shiva and Palkhi can be seen every Monday from 4pm to 5pm in Trimbakeshwar areas.
Lord Shiva and his Devotees:
Lord Shiva, Divine and Spiritual power where Devotees have internal faith in him. The name doesn't need any introduction. Their devotees will tell the world about its glory and the will to change evil into good. As the name depicts, Bholenath Lord Shiva is innocent, and devotees worship them to eliminate their sins and imbibe the positive energy into themselves.
The world worships Lord Shiva in the form of Shiva Linga. The temples are in every corner of the world being taken care of by the Shiva Bhakhts. The Shiva Bhakhts worship Lord Shiva in every way possible. Devotees know Lord Shiva as Rudra, just as they know Bholenath, Neelkanth, Mahadev, Damruwale, Natraj, and many other names. Lord Shiva has many avatars, and so it's various forms of worshipping. Rudrabhisheka is one of them. Rudra is the sun and moon's eyes, the wind's breath and the Vedas' voice, and the universe's heart; the world arises from his foundation. Rudra appears in the Vedas and is thought to refer to Lord Shiva's terrifying, violent, and destructive nature. Lord Shiva's ruthless side is exemplified in the Rudra Tandav dance, as mentioned in sacred scriptures. As rightly said, Destruction is the Purest form of Creation. There are many hypotheses as to why Shiva is known as Rudra. Rudra appears in the Vedas and is thought to refer to Lord Shiva's terrifying, violent, and destructive nature. Lord Shiva's ruthless side is exemplified in the Rudra Tandav dance. There are many hypotheses as to why Shiva is known as Rudra.
Starting Point of Godavari River: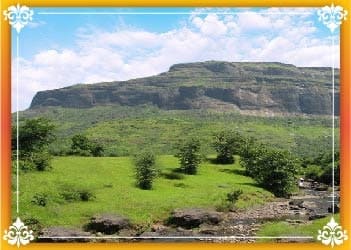 Brahmagiri Mountain is where the holy Ganga River originated and is usually known as the Godavari River. Brahmagiri hills hold the prestigious position. River Ganga goes through the ranges of Brahma Giri. There are 700 steps to climb Brahma Giri Mountain, which needs a minimum of 4 to 5 hours. The Sacred Ganga River flows in three directions. i.e., towards the East (known as the Godavari), towards the South (known as Varna), and West known as west-flowing Ganga, she meets the Godavari near Chakra Tirtha. There is Sangam of River Ganga and River Ahilya in front of Trimbakeshwar Temple, which is the sacred place, and thus people having no offspring came here to perform the ritual at Sangam. The height of Brahmagiri Mountain is 4248 ft from sea level.
Gangadwar is the main gate which is halfway from Brahma Giri parvata. On which Temple of Ganga River exists. It is said that Ganga appeared at Gangadwar for the first time, and afterward, it vanished from Brahma Giri Mountain. The Godavari comes to Gangadwar from the Brahmachari.
Trimbakeshwar Temple Darshan Pass:
You will get the VIP Darshan Pass at main gate of the temple. VIP Darshan pass will cost you Rs. 200. Free Darshan is also available which takes around one to two hours depending on the condition.
Trimbakeshwar Temple Timings:
The opening and closing time of the Trimbakeshwar Temple is 5.30 am to 9.00pm. Devotees need to come to Trimbakeshwar in the darshan timings only.
How to Reach Trimbakeshwar Temple: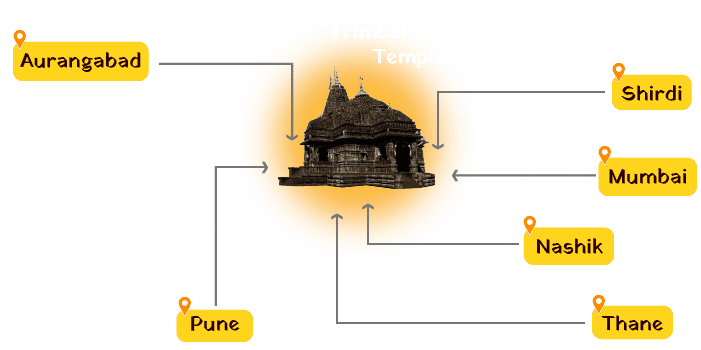 There are three ways to reach the Trimbakeshwar such as by air, by road, by rail. Trimbakeshwar is located 28 km away from Nasik (which is one of Maharashtra's popular cities). Nasik is connected to other cities quite well through roadways. Other nearest popular cities are Shirdi which is just 116 km far, then thane (163.2 km), Pune (240.5 km), Aurangabad (224 km) Mumbai (185.7 km).
Trimbakeshwar is 40 km away from the Nasik road railway station. Many trains connected to this route. Major cities include Pune, Mumbai, thane, Delhi, Chennai, Hyderabad, etc., for train routes. The nearest airport to the Trimbakeshwar is Nasik airport, whereas the nearest international airport is Chhatrapati Shivaji Airport, Mumbai (166 km).
The frequent availability of public and private transportations make visitors journey relatively easy.