Top 8 Places to Visit Near Shirdi in 2023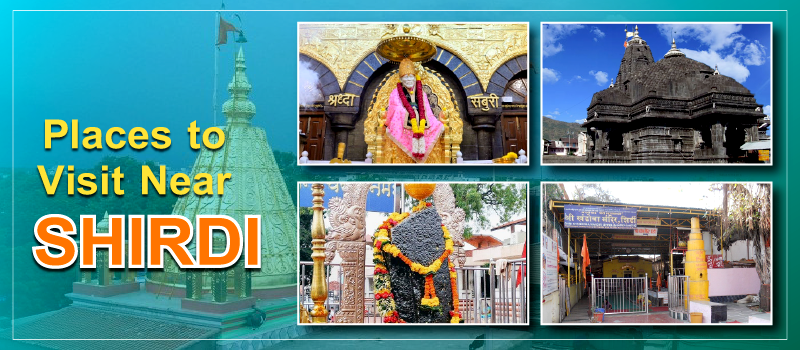 "Shirdi Ke Sai Baba", Sai Baba, or Sainagar ….. As we heard these words, we remember Sai Baba's temple in Shirdi, Ahmednagar. There are so many places to visit near Shirdi. It is a small town situated in Maharashtra's Ahmednagar district and is considered one of the sacred places in India called the Land of Sai.
Shirdi is famously known as the home of the late 19th-century saint ShriSai Baba. The Shri Sai baba Sansthan Trust, located in Shirdi, is one of the most successful temple organizations. 
Let's discuss tourist places near Shirdi
ShaniShingnapur Temple

Amruteshwar Temple

Trimbakeeshwar Temple

Sai Baba Temple 

Bhandardara

Khandoba Mandir

Malshej Ghat

Tiger Valley
1. ShaniShingnapur Temple
ShaniShingnapur, or ShaniShinganapur is a village in the Indian state of Maharashtra, Situated at a distance of 72.2 km from Shirdi in Newasa Taluka Ahmednagar. It is dedicated to Lord Shanidev. The temple is named after Lord Shanidev or the Saturn planet, worshipped by one and all in the village.
ShaniShingnapur attracts 40. 000 devotees each day due to its remarkable 300 years old ShaniDev temple. 
The temple has a black rock for an idol that is believed to be alive, and the devotees trust God Shani to protect them all and keep them safe.
Apart from the temple, this village is famous because, in the whole town, Houses have no front door, Shops are always left unlocked, and locals never feel unsafe.
 

Location: ShaniShingnapur, Rahata, Ahmednagar, Maharashtra.

 

Entry Fees: Entry is free.
Visiting Timing: All days of week 12 Am – 12 pm
2. Amruteshwar Temple: 
Amruteshwar Temple is one of the most visited tourist places near Shirdi. It is situated at a distance of 115km from Shirdi, near the banks of the holy river Pravara. This ancient temple is dedicated to Lord Shiva and built by the Shilahara dynasty in the 9th century A.D.
The temple is well connected to all major cities of Maharastra. Some major cities connected to this temple are Ahmednagar, Pune, Mumbai, Shirdi, and Aurangabad. Other than prayer, the tourist gets memorized temple because of Hamadpanthi architecture and age-old tradition.
As the place is well connected with buses, tourists can reach Amruteshwar temple anytime seamlessly. 
Location: Amruteshwar temple, near Bhandardara, Ratanwadi, Maharashtra.
Entry Fees: Entry is Free.
Visiting Time: All days of the week
3. Trimbakeshwar:
Trimbakeshwar is the holiest place located in Trimbak village, near Nashik Maharastra. It is 116.5 km from Shirdi. If you plan to visit the Shirdi Temple, then the Trimbakeshwar Shiva Temple should be added to your travel itineraries. 
Trimbakeshwar Temple is dedicated to Lord Shiva and is one of the twelve Jyotirlinga. A unique feature of this Jyotirlinga is three Lingam consisting of three faces Lord Brahma, Lord Vishnu, and Lord Mahesh. It is only one Swaymbhu Jyotirlinga among 12 Jyotirlingas in India.
After taking darshan at Shiri Sai Baba temple, most devotees come to Trimbakeshwar to perform puja. Trimabkleshwar Temple is famous for pujas like Narayan Nagbali, Tripindi Shradha, Kaal Sarp Shanti, Rudra Abhishek, Kumbh Vivah, and Mahamrityunjay Mantra Jaap.
A Special group of Guruji performs all these rituals at Trimbakeshwar called Purohit Sangh Guruji. They all are local Pandiji of Trimbakeshwar village. They have a legal Birthright to perform puja in the Trimbakeshwar Temple. They all are Tamrapatradhari Guruji.  
Location: Trimbakeshwar, Nashik, Maharashtra
Entry Fees: Entry is free. You can also VIP Pass Darshan ( Rs. 200)
Visiting Time: 5.30 am - 9 pm
 4. Sai Baba Temple 
At a distance of 600 m from Shirdi Bus Stand, Shri Sai Baba temple is located in the city's heart. It is one of the famous temples in India and a prime place to include in your travel itinerary.
Shirdi, A famous small town situated in Ahmednagar district of Maharashtra. This temple was built in 1922. It is said that Sai Baba has given one rupee to Dada MadyeJi, with which he made the temple in Kudal. Today, the Sai Baba Temple in Shirdi is visited by an average of 25,000 devotees a day, and while religious festivals, this number can reach up to 100,000. With Sai Baba temple you can also visit Lord Shiva's Trimbakeshwar temple. Shirdi to Trimbakeshwar distance is 116.5km only.
It is less than 300 km away from Mumbai and is well connected to the major cities of Maharashtra. Thousands of devotees travel to the Shirdi each day to pay homage to the Sufi Saint Sai Baba and Seek blessings. The saint was known to perform miracles and spread teaching about "One God." 
Location: Shirdi, Ahmednagar
Entry Fees: No entry fee
Visiting Time: 4.30 am to 10.30 pm
 5. Bhandardara: 
At a distance of 104km from Shirdi, 157 km from Pune, and 172km from Mumbai, Bhandardara is located in the Ahmednagar district, Maharashtra. It is one of the well-known hill stations in Maharastra and among all beautiful places to visit Nashik. 
Bhandardara is a mixture of natural beauty, mountains, waterfalls, greenery, refreshing air, and a perfect ambiance experienced as part of Nashik tour packages. 
It is an excellent place for trekkers and a popular stopover for tourists traveling to Trimbakeshwar and Shirdi. 
Bhandardara gives plenty of opportunities for small treks for adventure lovers. Trek to Ratangad Fort is the most exciting trek which is nearer to Bhandaedara. This fort has an excellent view all around and is said to be the favorite fort of the Maratha king, Shivaji. Kalsubai (1646 m), the highest peak in Maharashtra, is a famous trekking place near Bhandardara. 
The best time to visit Bhandardara is from September to February when the weather is convenient to explore. However, Please avoid the Summer season, as it is very hot and dry from March to May.
Location: Bhandardara, Nashik
Entry Fees: No entry fees.
Visiting Time: All the days of the week, Prefer morning timing
 6. Khandoba Mandir: 
At a distance of 600m from Shirdi, Khandoba Temple situated on Ahmednagar – Kopargaon. The temple is dedicated to Khandoba and is considered to be another form of Lord Shiva.
Khandoba Mandir has a rich history and holiness to its followers. It has very close importance to Shirdi Sai Baba because of the famous icons of Khandoba, Banai, and Mhalsai. In the temple, two artis are performed as daily rituals at 12.00 noon and 6.00 pm. It is located just opposite the Shirdi bus stand, where the many devotees of Sai Baba would never miss visiting this temple.
Location: Situated on Ahmednagar – Kopargaon road in Shirdi
Entry Fees: No entry fee
Visiting Time: 5 am to 10 pm
7. Malshej Ghat: 
At a distance of 140 km from Shirdi, Malshej Ghat and 141 km from Mumbai, Malshej Ghat is a mountain pass located on Kalyan – Ahemedanagar road in the Thane district Maharashtra, India. Because of the fantastic natural beauty, the place is heaven to the visitors. The place is also known for its fantastic waterfall, trekking trails, rugged mountains, and numerous lakes. 
This stunning mountain pass is a fantastic getaway from Mumbai and Pune and lures many tourists as part of the Malshejghat tour; the best time to visit is the monsoon season because the surroundings are come alive with lush greenery and breathtaking waterfalls. Also, this attraction hosts many activities that will enthrall and keep its visitors busy.
Location: Malshejghat, located on Kalyan – Ahemedanagar road
Entry Fees: No entry fee
Visiting Time: All days of the week
8. Tiger Valley
Tiger Valley is at a distance of 215 km away from Shirdi. The Tiger Valley in Khandala is a beautiful destination for nature lovers. For romantic couples to get some lovely photographs, Tiger valley is the perfect destination. It's a large area with greenish layers that can echo your voice because of the formation of stones. If you're looking for an adventurous destination to visit near Shirdi, Tiger Valley is the perfect adventurous destination for trekking.
This is all about the Top 8 places to visit near Shirdi. Want to Explore more?
Read, How to reach Trimbakeshwar Temple.
04 Jun '21 Friday