Navgraha Puja 2023 | Remedies to Reduce Negative Effects of Nine Planets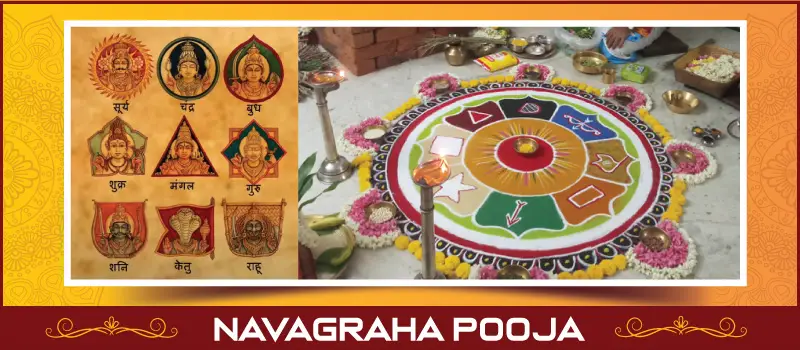 Navgraha puja is performed to reduced negative effects of nine grahas or planets. The word "Navgraha" is a combination of two words; Nav means Nine, and Grah means Planets. Navgraha includes Lord Surya, Chandra, Mangal, Budha, Guru, Shukra, Shani, Rahu, and Ketu. Actually, Navgarhas are the major planets which have great importance in our life. They play a major role in deciding the destiny of Man. It is believed that what is Good or Bad happening in our life is because of the planetary position of Navgrahas in the Horoscope. To get positive effects to you and your family from all major planets, we perform Navgraha Puja or Navgraha Honam. It is conducted to pray for health, success, and prosperity.
Navgraha Pooja is performed at the auspicious Trimbakeshwar temple, located in Trimbakeshwar, Nashik, Maharashtra. This temple is also known as a landmark for such a puja in the holy city of Trimbakeshwar. Several pujas are also performed for individual planets like Kumbh Vivah Puja for Mangal dosh(Mangal planet), Kaal Sarp Puja for Rahu, and Ketu.
This puja is recommended for the people who are regularly facing losses, obstacles, delays in their carrier/ business or family life.
Navgraha Puja Vidhi 
Firstly, Kalash is established that is Kalash Sthapana.
The Navgraha or Nine planets are invoked before starting the puja.
Take some water on the right palm with pali and make a Sankalp.
It is followed by Ganesh Pujan, Abhishek, and Puja of Navgraha idols.
The major Gods placed on the Kalash are prayed, and mantras of all nine planets are chanted.
Further, Yagna/ Honam has performed to receive blessings of the planets.
Navgraha puja is completed with Aarti.
Navgrah Puja Vidhi Mantra has to be recited properly to get the best results. 
Navgrah Puja Samgri
Akshat, Aarti thali, Panchamrit(Mixture of Ghee, Curd, Sugar, Milk & Honey)
9 types of fruits, 9 clothing pieces of different colors, 9 different mithai, 9 Janeu
Fresh flower, Mango leaves, two diyas ( For Aarti), Tulsi leaves,
Ten bhetalnuts(Supari), Gangajal, Kalsha, Coconuts, Incense sticks
Chandan, Haldi-Kumkum, Navgrah Photo, Navgrah Yantra, Havan Samidha Sticks
Havan/Honam Samgri, Navgrah sticks, Kapur slabs, Rice, and Coins.
Navagraha Shanti Mantra
Surya (Sun): Om Ghrini Suryaye Namah
Chandra (Moon): Om Aim Kleem Somaye Namah
Mangal (Mars): Om Hoom Shreem Mangalaya Namah
Budha (Mercury): Om Braam Breem Braum Sah Budhaye Namah
Guru (Jupiter): Om Gram Greem Graum Sah Guruve Namah
Shukra (Venus): Om Draam Dreem Droum Sah Shukraye Namah
Shani (Saturn): Om Sham Shanaischaryaye Namah
Rahu (Head): Om Raam Rahve Namah
Ketu (Tail): Om Hreem Ketave Namah
Navghraha Puja Benefits
Performing Navgrah puja with total dedication under the guidance of an experienced Astrologer or Purohits will remove the ill effects of the planets in one's life while strengthening the positive and favorable influences on that planet.
Navgraha Puja Benefits are:
Mainly puja will remove all negative effects of all planets of your Kundali/ Birthchart. 
It gives relief from disease-related to the Nervous system. 
This puja is given strength and courage, prosperity, and success in life.
Navgraha Puja is beneficial for mental peace.
It offers good health, wealth, and power in life.
Imporatnce of 9 planet in our life
Surya (Sun): The Sun represents our principles. It teaches us to live in the present. It teaches us to be the best version of ourselves by making us realize that the present moment is the absolute truth. It gives courage, success, health.
Chandra (Moon): Moon is associated with our spontaneous reaction and teaches us to balance our emotions. Chandra Grah is beneficial for mental peace. It offers love, success, and happiness.
Mangal (Mars):  It teaches us to be stable, take the initiative in decision making. Mangal Graha improved health, wealth, prosperity.
Budha (Mercury): Budha Grah is called the Messenger of God. It removes obstacles from an individual's life. It offers commercial success, growth, and stability in life. It gives relief from nervous problems.
Guru (Jupiter): Guru is a king of God. It nullifies bad emotions. Improves health, wealth, education, and progeny.
Shukra (Venus): Shukra is the Goddess of Love. It indicates the love and money aspects of our lives. Guru improves relationships, progeny, and happiness.
Shani (Saturn): It helps us to grab new opportunities, make the correct decision and fulfill our goals. It provides mental peace, health, and happiness.
Rahu: It improves personal as well as professional life, financial condition and helps gain spiritual bliss.
Ketu: It Safeguards us from accidents, provides protection from evil eyes, and offers victory over enemies.
Navgraha Puja Online Booking and Services: 
With Purohit Sangh Online Puja booking portal , You Can Book Navgharha Puja Online.
Purohit Sangh, Trimabkeshwar is a group of authorized Guruji. These are the local Guruji of Trimbakeshwar town. They are Tamrapatradhari Pandit, having legal birthright to perform puja in Trimbakjeshwar temple. With the help of our "Online Puja Booking Portal," you can book Puja/ Panditji online.
The booking portal shows you the complete biography of Panditji/Guruji, who perform puja in the Trimabkeshwar temple. You can reach Purohit Sangh Guruji with just one click. For further discussion, Guruji's contact details are also given.
For more details, please visit our official website.
08 Jun '21 Tuesday