Shree Swami Samarth Gurupeeth Trimbakeshwar - Dindori Pranit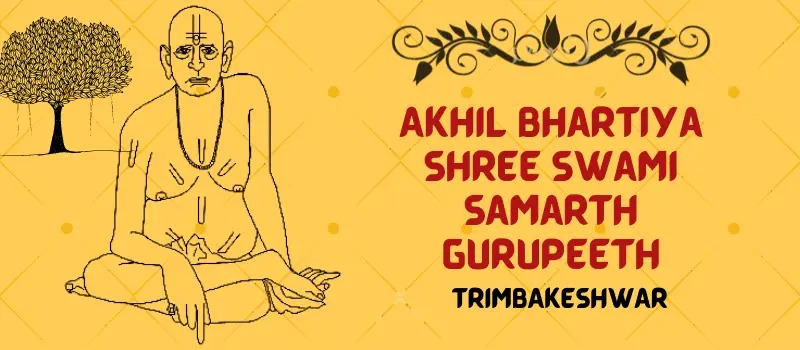 Dattatreya tradition got its spiritual guru in 1856, and Shree Swami Samarth was born in Akkalkot, Maharasthra. Swamiji had a mysterious life which is not unfolded with any given proof. 
He is remembered for his kind words, lessons, and preaching. That is his everlasting legacy. The well-known fact about Swamiji is he is considered as an incarnation of an Indian monk who was himself incarnation of Narasimha, Dattatreya. 
The claims of his origin by himself are contradicting but believed to be confirmed by the followers. Swamiji shared his heritage from a forest in Karnataka and considered it a holy place.
People who have visited the temple and received Shree swami samarth's blessings have seen significant changes.
Swamiji's teachings are timeless, and people have a new appreciation for festivals. 
A continual change in the way festivals and the Kartikeya month are celebrated. November is regarded as delightful in the Hindu faith, and if you happen to be in Nashik at this time, you should take advantage of it with your family and fellow guests. 
Shree Swami Samarth took the initiative to hold a mass wedding in the temple, and people have benefited much from it to this day. In our nation, weddings are a significant matter financially, yet they are made to be a simple event by such people. 
Akhil Bhartiya Shree Swami Samarth Gurupeeth Trimbkeshwar
While in Nashik, one should not miss the chance to visit Shree Swami Samarth Gurupeeth-Dindori Pranit and trimbakeshwar temple. 
It is your chance to get the soulful chance and enjoy your religious journey by contributing your part of offering prayers and getting blissful blessings. 
A view to be grateful for and a trip that can be memorable within a few hours. The surroundings of the temple are attractive, and the facilities are impeccable. The locals and trust people welcome visitors and tourists to enjoy the spiritual offering of trimbakeshwar, Lord Shiva, and Swami Samarth.
The interior is immaculately kept, with officials cleaning it regularly. Shree Swami Samarth gurupeeth trimbakeshwar is a beautiful destination to see another lord's sub-temples. An Ayurvedic specialist is also on hand to share his knowledge and offer free counsel to followers. 
Visit this temple when visiting Trimbakeshwar and embrace positivity in your life. 
WHAT ATTRACTS TOURISTS TO SHREE SWAMI SAMARTH GURUPEETH TRIMBAKESHWAR- DINDORI PRANIT
A diligently built architecture to help you enjoy the positive and good energy of sun and moon in the right balance. The various images of idols are placed inside the temple and give you a reason to bow down and offer your prayers to the almighty. 
The place's vibe is filled with positivity, calmness, and you will have a unique experience while exploring the complete temple. The visitors admire all the facilities offered, from accommodation to Prasad.
The offerings are beyond words as you learn new facts and tales about Swamiji and are bestowed by the admiration he has from his followers.  
The temple is created by strict compliance of Vastu shastra, which is admirable and is beneficial for the visitors to get the good energy from the infinite power. 
The true meaning of Seva and getting rid of doshas is one such takeaway from the temple. People residing around Trimbakeshwar and locals of Nashik have a great value of this holy place and often visit the temple on auspicious occasions. 
The importance of palki seva and offering the prayers right is essential. Conducting Puja with the help of Pujari Ji is necessary for everyone, and followers of Lord Dattatraya are getting this opportunity here. The temple was built according to Vastu shastra, which is lovely and helpful to tourists in terms of receiving the correct energy from the lasting power. 
One such takeaway from the temple is the genuine meaning of Seva and the removal of doshas. The people of Trimbakeshwar and Nashik place high importance on this sacred site, and they frequently visit the temple on essential occasions. 
The importance of palki seva and correctly offering prayers cannot be overstated. With Pujari Ji's aid, Puja is necessary for everyone, and Lord Dattatraya's devotees will get this chance here. 
CHANGES PEOPLE HAVE FELT AFTER VISITING SHREE SWAMI SAMARTH GURUPEETH 
Remarkable changes have been felt by people who have visited the Akhil Bhartiya Shree Swami Samarth Gurupeeth, Trimbkeshwar and received the blessings of Swamiji. 
The teaching by shree swami samarth is everlasting, and people have got a new meaning to the festivals. A constant revision in the celebration of festivals and the month of Kartikeya and November is considered blissful in the Hindu religion. 
While being in Nashik during the same, one should not miss the chance to enjoy the timing with their family and fellow visitors.  
The mass wedding conducted at the temple is an initiative by Swamiji, and people are having the much advantage of the same till today. Wedding in our country is a big deal in finance, and it is made as a simple affair by such kind initiatives. 
The teachings and preaching are followed with grace and complete instructions by the devotees and trust members. They visited Shree Swami Samarth gurupeeth and Trimbakeshwar Temple, while Nashik is a must. 
It is your chance to have a profound experience and enjoy your religious journey by offering prayers and receiving pleasant blessings. It is one of Nashik's most well-known tourist destinations. 
A view to be thankful for, as well as a vacation that may be unforgettable in a matter of hours. The temple's surroundings are beautiful, and the amenities are top-notch. The residents and trust people encourage visitors and tourists to experience Trimbakeshwar jyotirlinga, and Swami Samarth's spiritual offerings. 
Perfectly maintained interior with timely cleaning by concerned authorities. Shree Swami Samarth gurupeeth trimbakeshwar is an admirable place to witness the sub-temples of another lord, and it is a perfect place to enjoy the beauty of nature. An Ayurvedic expert is also available to share his proficiency and provide free of cost advice to the devotees. 
Do not miss your chance to exchange a word with him. While going to Trimbakeshwar temple, visit this temple and welcome positivity in your life.
14 Jan '22 Friday